Gateway invests in transformational research – early-phase clinical trials that translate basic science to the patient's bedside with an immediate impact on those of all ages living with cancer of any type at any stage.
Gateway accepts cancer research grant requests from investigators around the world on a rolling basis, which enables researchers to submit proposals at any time. Each proposal is reviewed and scored per the National Institutes of Health (NIH) scoring model by Gateway's Research and Grants Committee. This committee is comprised of MDs, PhDs, NDs, DOs, patient advocates and other peer review colleagues, who review the application for scientific merit, fiscal prudence and alignment with Gateway's mission.
Successful cancer research grant applications are typically funded within three to four months, an extraordinarily short timeline compared to most cancer research funding streams. As a result, investigators can quickly enroll patients and move the research forward more rapidly than most funding allows. To facilitate start-up, Gateway provides 20 percent of the total grant award as seed money at initiation of a trial.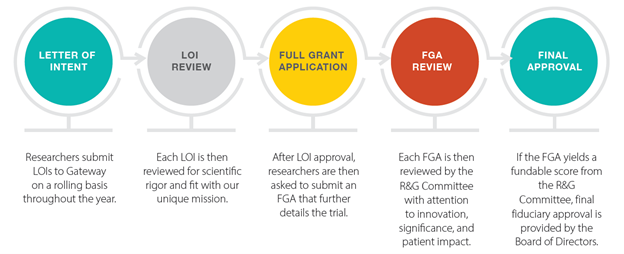 Gateway's Grant Application Process:
LETTER OF INTENT
Researchers submit LOIs to Gateway on a rolling basis throughout the year.
LOI REVIEW
Each LOI is reviewed for scientific rigor and fit with our unique mission.
FULL GRANT APPLICATION
After LOI approval, researchers are invited to submit an FGA that further details the trial and investigator credentials.
FGA REVIEW
Each FGA is then reviewed by the Research and Grants Committee with attention to innovation, significance and patient impact.
FINAL APPROVAL
If the FGA merits a fundable score from the Research and Grants Committee, it is presented to the Gateway Board of Directors for final fiduciary approval.
Successful clinical research grant applications answer the following questions:
If successful, will the results of this trial change clinical practice?
What is the PI's plan for next steps in bringing the results of this trial into clinical practice?
How important is this trial to people who have been or will be diagnosed with this disease?
What aspects of this trial design might attract patients or be of concern to patients?
How well does this trial balance the risk, benefits, and burdens of the patient and/or the caregiver?
Is this study likely to meet accrual goals and retain patients through the completion of the protocol?
How will you ensure that patient and caregiver voices are heard in the design and implementation of your study?
Was this research designed to answer a patient-derived question?
What is the availability of the PI/Co-PI for regular patient consultation?
Around the world, tens of thousands of cancer patients choose to take part in clinical research trials. They participate not only to fight their own cancer, but also to help create new and better treatment options for other cancer patients.

Visit our Frequently Asked Questions (FAQ) guide for more information on our cancer research grants.
Apply Now
Fund One Day
It costs just $19.62 per patient per day in a Gateway-funded cancer clinical trial.
Help us fund another day of research, another week or more. You can even mark your gift with a special date, such as an anniversary, birthday, wedding, bar/bat mitzvah or graduation.